Uniformity of US Maritime Law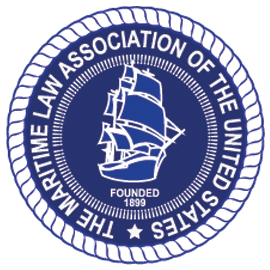 Standing Committee
Public Committee
active 2 months, 1 week ago
The Committee serves as a liaison committee to the MLA's Board of Directors. It identifies and alerts the Board to legal decisions that give rise to decisional conflicts among the United States Circuit Courts of Appeals and district courts. The Committee also identifies and monitors significant State court decisions which may conflict with well-established principles of federal maritime law. At the request of the MLA President, it may be called upon to provide research and legal analysis to assist the Board in considering requests for amicus curiae participation by the MLA. The Committee offers CLE credit for attendance at its meetings at which members discuss recent developments in maritime law.
Chair: ERIC S. DANIEL
Vice Chair: ROBERT J. BOCKO
Secretary: VINCE C. REUTER
Board Liaison: MICHAEL F. STURLEY
MLA President: BARBARA L. HOLLAND
MLA First Vice-President: GRADY S. HURLEY
Liaison: ALEXANDER DEGIULIO
[Help: Committee Chair Website Instructions | Document Upload Help for Members ]
You are viewing all docs.
Has attachment

Subject/Title
Author
Uploaded
Last Updated
Tags
Uniformity – Joint Meeting Agenda – Fall 2016

Fall 2016 Joint Meeting with Committees on Carriage of Goods and Marine Insurance & General Average

MLAUS Admin
October 25, 2016
March 24, 2017
agenda, Fall 2016, Joint Meeting, new orleans, Uniformity
Uniformity Committee Meeting Agenda – May 3, 2017

KEVIN G. O'DONOVAN
April 12, 2017
April 12, 2017
Uniformity Committee Meting Agenda – May 2018

KEVIN G. O'DONOVAN
April 1, 2018
April 1, 2018
Uniformity Committee Revised agenda for May 2 meeting

Please see the revised agenda for the meeting May 2. If you will be attending the meeting, please advise our Read More

KEVIN G. O'DONOVAN
April 20, 2018
April 20, 2018
CLE materials for Uniformity Committee meeting – May 2, 2018

A PDF document containing the CLE materials for the Uniformity Committee's May 2 meeting has been posted on the website.

MICHAEL F. STURLEY
May 1, 2018
May 1, 2018
Information for Fall 2020 meeting of the Uniformity Committee

The agenda, the two CLE papers, the speakers' biographies, and links for completing the evaluations and attorney affirmations are posted.  Read More

MICHAEL F. STURLEY
October 23, 2020
November 5, 2020
Information for Spring 2021 meeting of the Uniformity Committee

The Spring Meeting of the Uniformity Committee will be held on Monday morning, May 3, on Zoom at 11:00 EDT Read More

MICHAEL F. STURLEY
April 15, 2021
April 15, 2021
call-in numbers for May 3, 2021, meeting of Uniformity Committee

If the dial-in numbers given in the email message to the members don't work for you (e.g., if you want Read More

MICHAEL F. STURLEY
April 26, 2021
April 26, 2021
Information for Spring 2021 meeting of the Uniformity Committee

Here is an updated agenda (which includes the Zoom link).

MICHAEL F. STURLEY
April 29, 2021
April 29, 2021
Agenda for Uniformity of Law Committee Meeting – Nov. 3, 2021 at 4:00 Eastern

Attached is the agenda for the Nov. 3, 2021 (4:00 Eastern) Uniformity of Law Committee meeting.  Please contact Vince Reuter Read More

ERIC S. DANIEL
October 13, 2021
October 27, 2021

There are no docs for this view. Why not upload one?